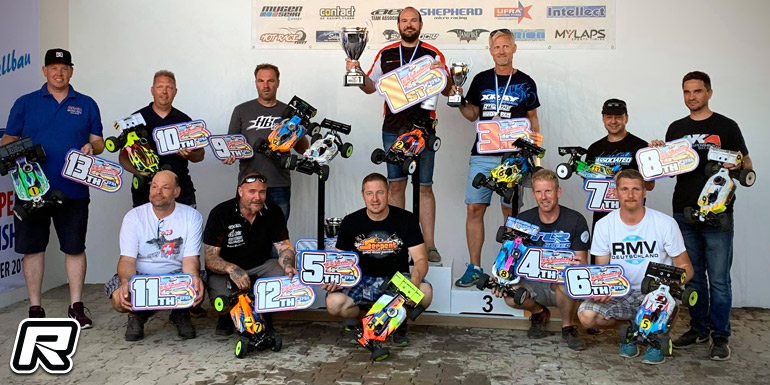 The 2019 EFRA 40+ 1/8th Nitro Buggy European Championship was held at the LA Speedway in Landshut, Southern Germany this past weekend. After the four rounds of qualifying it was Simon Reeves with the overall TQ from his fellow countrymen Jon Hazlewood and Simon Willets. Peter Harder from Denmark came in 4th as Daniel Reckward and Andreas Bartels from Germany completed the top 6 results for now. The semifinal B then saw Jon taking the win while in the semi A it was Simon Willets with the fastest time as top qualifier, Simon Reeves only came in 10th, meaning he would not earn a spot in the 45-minute A-main event. The latter was a very close affair and was ultimately won by Agama's Jon Hazlewood who left behind Mugen's Stephane Deroch from France, only 2.6 seconds behind. Xray's Peter Harder came in 3rd, only 0.5 seconds behind Stephane.
Final results:
1. Jon Hazlewood – 65L 45:36.822
2. Stéphane Deroch – 65L 45:39.429
3. Peter Harder – 65L 45:39.960
4. Andreas Bartels – 64L 45:02.710
5. Mikael Svensson – 64L 45:14.016
6. Daniel Reckward – 63L 45:03.807
7. Robert Hart – 63L 45:27.445
8. Rune Karlsen – 63L 45:38.206
9. Guido Erler – 63L 45:40.838
10.Robert Hillman – 62L 45:05.415
11.Marc Heim – 61L 45:30.834
12.Robert Gustafsson – 59L 45:17.299
13.Simon Willets,– 52L 36:55.150
Image: Nemo Racing [nemoracing.com]
The post Jon Hazlewood takes EFRA 40+ Nitro Buggy title appeared first on Red RC.


Fonte: RED RC.